[youtube]https://www.youtube.com/watch?v=RfCeAjAR-_s&spfreload=10[/youtube]
As we look into the past, we bridge last weeks article with this weeks. Aryton Senna's DNA is flowing through the soul of the McLaren F1 team, and is still so well recognized 21 years after his death, that Tag Heuer has added him back into their portfolio of brand ambassadors. But watch talk isn't what we are all here for, now is it? No, we are here because we watched the Spanish Grand Prix at the beautiful Circuit de Barcelona-Catalunya. The hyphenation of which makes me think it is the Mazda Raceway of Spain, say the full name, or someone who paid money gets butthurt.
The lead up to the Spanish Grand Prix was one of promises. Promises to find reliability, power, aero, or any other matter of upgrades. Honda and Renault especially were keen to see their record improve. Lotus on the other hand, well, they brought something nobody really expected.



Yup, that's a dually Mad Max'd out F1 car. How fucking cool is that? The new movie also graced the side pods of the Lotus Duo of Frenchy and Crashy. The Mad Max spirit was also seen with their handling of Pastor's car during the race, as they straight up ripped off his right endplate of his rear wing after it got damaged. How metal is that? Lotus earned some serious badass points this weekend, even if they did only finish with one car.
Lotus weren't the only ones sporting a new look when they turned up in Catalunya. The McLaren team brought out a brand new livery, getting rid of the super reflective metal flake, and going with a handsome, sinister Black, red, and silver livery. Apparently, the difference in the weights of the paints used meant that McLaren saved 1.5Kg with the new style. And, when they used Red flow vis paint, a tool that is used to visualize air flow in real running, the car looked even better.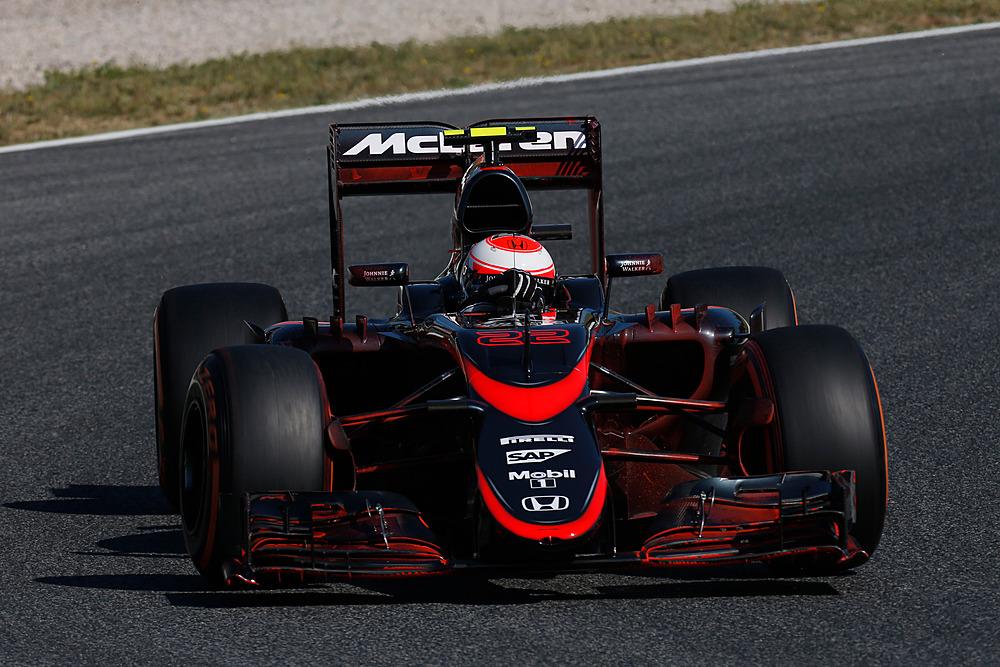 I mean, come on, look at that. This might be the best thing McLaren does all season.
Qualifying had no real surprises about what teams would end up where, except that McLaren got both cars in Q2, continuing to show that they are clawing there way back bit by bit. The real shocker from qualifying was that Nico Rosberg was king on Saturday. Lewis Hamilton and Sebastian Vettel both couldn't find the last couple of tenths to overthrow Rosberg. In a race that has been won from pole most runnings, it was hard to see that Nico Rosberg would be out shined during the race.
The race itself didn't have that many flashy moves or really big passes, but the battle in the pits was one where there were far more incidents. After losing the brakes on his McLaren, Fernando Alsonso was told to retire his car in the pits. And as you might have figured that out, that meant that his front jack man had to dive out of the way of the Spaniards car. Everyone was okay there in the McLaren pits, but the later incident in the Lotus pits left the front jack man icing his front jack, if you catch my drift.
At the end of the day, it was Nico Rosberg scoring his first win of the season, with Lewis Hamilton and Sebastian Vettel coming in behind him. It was a good sign for the German, as he scored his first race win of the season, bringing him back into the championship chase. Next up we have Monaco, where Nico Rosberg has dominated the past couple of years. Let's see if he can continue the run, and start to break down Hamilton's lead.